3 Bedroom 2 Bathroom Furnished Vacation Rental-NWTucson Arizona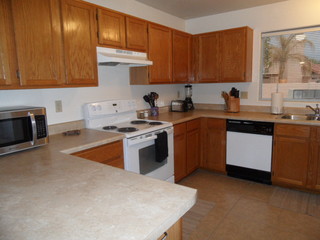 Location:
North Ranch
Located in the beautiful community of North Ranch, this home is ideal for those in need of short or long term accommodations. Three bedrooms, all with Queen beds, two bathrooms, two car garage, large walled backyard and all of the comforts of home, will make your stay pleasant and convenient. Utilities are included: water, cable, local phone, internet (wireless), gas and electric (cap will apply to electric). Please call a representative at Suntree Corporate Housing for rates and availability of this home. 1-866-882-6636 (CONDO). We specialize in furnished housing throughout Tucson!


Suntree Corporate Housing
Rental Rate:
$4,600.00 per month
Availability:
Available for stays 30 days or more. Discount on multi month leases. Please contact Suntree Corporate Housing for availability and current rates.
Other Information:
Suntree Corporate Housing-Tucson's Premier Furnished Housing Company
Payment Methods:
Visa, MasterCard, Amex, Paypal, Check
Parking Spaces:
2 car garage
All information in this site is deemed reliable but is not guaranteed and is subject to change
ID#: 64221501
Location: Tucson, AZ , 85742
Address: 1111 Sky Ridge , Tucson, AZ, 85742, US
Rent: $4,600

Bedrooms: 3
Bathrooms: 2
Square Feet: 1,850