Home away from Home! 4 Bedroom, 2 Bathroom, spacious floorplan!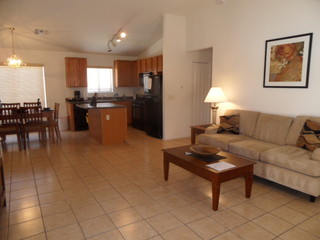 Location:
Tucson, AZ
Whether your commute is to downtown Tucson, U of A, DMAFB or Raytheon, you will apprecatiate the convenience of this 4 bedroom home! Furnished with a flat screen television in the living room as well as in the Master Bedroom, all housewares, washer/dryer,kitchenware, linens, towels, bedding.....a perfect "Home Away From Home" for your Tucson stay! Two car garage, walled backyard and split floorplan make this home extra desirable. Contact Suntree Corporate Housing to make your reservations! 1-866-88-CONDO


Suntree Corporate Housing

Rental Rate:
$4,300.00 per month
Availability:
This property is available year round for short and long term leases. Please call a Suntree representative for rates and availabitlity.
Other Information:
Suntree Corporate Housing is Tucson's Premier Real Estate and Corporate Housing Company! Deisgnated Broker: Jason Mayer
Payment Methods:
Visa, MasterCard, Amex, Check, Money Order
1111 N Calle Pelicano
Tucson, AZ 85746
View Map
Parking Spaces:
2 car garage
All information in this site is deemed reliable but is not guaranteed and is subject to change
ID#: 64221502
Location: Tucson, AZ , 85746
Address: 1111 N Calle Pelicano, Tucson, AZ, 85746, US
Rent: $4,300

Bedrooms: 4
Bathrooms: 2
Square Feet: 1,800